Designing Cities with Children in Mind
Accra, Ghana's capital, is an energetic fast-growing city of 2 million where undeveloped space is at a premium. In the heart of the Dzorwulu district, local non-profit Mmofra (mo-frah) Foundation is advancing the Playtime in Africa Initiative: taking two acres of undeveloped land and transforming them into a child-centric, play-friendly public centre where the entire community can re-imagine 21st century urban living.
In sub-Saharan African cities, this is innovative thinking. The target site has withstood enormous pressure from both the burgeoning demand for up-market townhouses or company offices, and the opportunistic informal structures which seem to spring up overnight on any unguarded plot in Accra. Mmofra Foundation, which supports cultural education for children in Ghana, is banking on the belief that child-centered design can promote urban regeneration, inspiring communities to re-learn values of shared public space that were an integral part of traditional life not so very long ago.
The Playtime in Africa site is "green," not just because of its vegetable gardens and surrounding trees, but because the future centre is intended to be constructed using local materials, sustainably realized, and supported by an intergenerational group of community volunteers for many years to come.
This is a tall order in sprawl-prone Accra, which does not have a culture of public park use, and where more urgent, aggressive claims on scarce land routinely supplant community playgrounds, children's parks and museums even where the intention to build them exists on paper. Most children in the city have had little experience of designed playspaces beyond the margins of the built environment that they claim for makeshift soccer pitches or ampejump-and-clap games. Kwei Quartey's well-received recent crime novel Children of the Street vividly describes the degraded environments in which Accra's homeless children struggle to survive. Yet there are also small, hopeful signs of community renewal through art projects for children in slums.
The Playtime in Africa coordinating team at Mmofra Foundation sees both challenge and opportunity in a combined grassroots/global approach. Locally, professionals offer inspiration or have pledged their services in multiple disciplines including architecture, indigenous knowledge, urban planning, horticulture, public health and early childhood education. In October 2011, a team of university student volunteers will begin to map a child's-eye profile of the district from neighborhood interviews.The listening phase of the process has begun with children in the community drawing, writing, and talking about their understanding of play.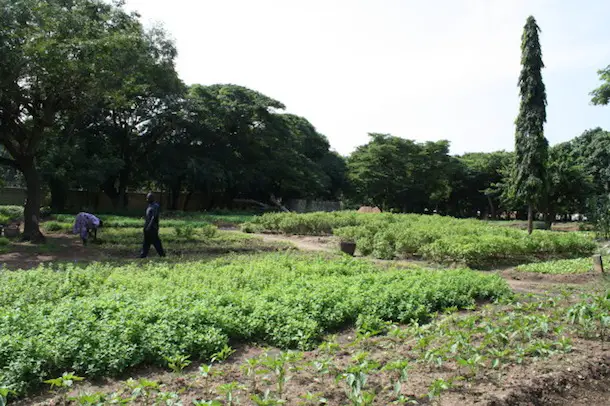 The Dzorwulu district has the typically mixed use character common to large sections of Accra. There is something oddly promising in this side-by-side jostling accommodation of churches, carpentry shops, fashion boutiques, schools, hair salons, re-purposed shipping container shops, pharmacies, roadside hawkers and walled residences with elaborate gatehouses, all of which are within walking distance of what could represent a new neighborhood-led paradigm which puts children first.
With few models on the ground in Ghana to emulate, we have turned to social media, the web, word of mouth, and a growing number of like-minded global citizens to mobilize ideas which we can adapt to our realities.
Usable African examples of innovation in child-accessible city parks and sustainable building are showing up in a number of blogs, but child-focused design remains elusive. Still, there are lessons to be learned on the continent, as demonstrated by a recent collaborative playground design/build effort between local craftsmen and an Amsterdam-based design studio in Casablanca, Morocco.
From further afield, a landscape architect in Argentina has shared design strategies for seeding playgrounds in the marginalized villas of Buenos Aires. We've noted the attention to sensory development, disability access and regional environmental interpretation built into the Discovery Playground in Spokane Valley, USA. Twitter introduced us recently to the Strawberry Tree public solar cell phone charger and shaded seating area invented by students in Belgrade, Serbia, a concept which seems highly adaptable to Accra's hot climate and mobile-savvy population.
Our interest in these and many more global examples does not imply that we aspire to reproduce them exactly, but they will be part of the brainstorming at the 2012 Urban Spaces for Children charrette we will host on the project site in Accra, the first of its kind. Evolving a blueprint through engagement on the actual ground is essential. Too often, designs created elsewhere are deemed appropriate for an African context by the simple expedient of photo shopping the images of some goats into the final drawings!
A host of questions must be addressed at the charrette. Will nature-based play concepts resonate with middle-class Ghanaian parents who aspire to provide their children with indoor electronic entertainment and imported playground equipment? What role can water play in experiential learning design when the municipal water supply is stressed, and exposure to untreated water can have serious consequences for children with limited access to health services?
With input on a local and global scale, we are excited to see how the Playtime in Africa Initiative develops over the coming months. This is a unique opportunity to shape attitudes towards urban development, and we hope that making Accra a more child-friendly city will help it to become make it a more liveable place for all its inhabitants.
By Amowi Phillips and Rachel Phillips – team leaders of the Playtime in Africa Initiative of Mmofra Foundation, a Ghana-based nonprofit which supports creative work for children.