I teach at a design college. Last month a senior was mapping abandoned properties in Minneapolis using Google Fusion software; her purpose was to elicit some storytelling from urban residents. A couple dozen property markers popped up in her map of North Minneapolis neighborhoods; surprised by a noticeable linear pattern, she inquired of me.
I was as startled as she. It turned out she had unknowingly mapped the tornado path through the area that happened on May 22, 2011!

An EF2 tornado a half-mile wide had struck North Minneapolis (locally known as NoMi) that day, causing one death and leaving 600 buildings and homes in need of repair. 35 homes and apartment buildings were unable to remain occupied. As of March 2012, about 28 properties were abandoned and slated for demolition.

At first glance, the map seemed to speak for itself, but I paused to ponder: so which properties were abandoned due to tornadoes, and which for other reasons, say foreclosure? One never knows with urban datamaps these days, but there may be a master's thesis in geography or planning hidden within them.
As the 2011 NoMi tornado approaches its first anniversary I started thinking in general about post-disaster recovery: there are always wishes and hopes for remedies of many sorts to emerge, and to be acted upon quickly. So what has happened?

NoMi's Post-Tornado Summary

Here's what I found, just short of one year afterward, offered as pointformed factoids. They are in the order that press reports were issued...
All seems well, correct? I would argue – not quite. I took a still deeper dive and discovered much more elaborate mapping of the NoMi disaster, one simple example is below; there are other maps, more complex with higher resolution, along with a report here. Most interesting is one that explores the relationship between lender-owned foreclosed properties and those that are vacant and/or boarded within the tornado zone.
Lastly, I asked myself this: given such challenges to NoMi, is there anything else not apparent that perhaps should be?

Compare-and-Contrast

A college teacher knows the value of assigning compare-and-contrast essays, so I gave that challenge – to myself! A core subject of Sustainable Cities Collective and the mission of my college became a meta-question — have any post-tornado efforts unfolded elsewhere to promote more energy-smart and less consumptive cities, neighborhoods, and homes?

Perhaps comparisons might best be ushered forward to confirm some sort of hypothesis. That takes time and doesn't fit the look and feel of SCC essays or columns. On the other hand, an inductive effort to search for patterns within data — and on maps — made sense to me.

So, where to look? Perhaps Joplin, Missouri: we easily recall a huge tornado that struck Joplin that very day last May, with far more death and destruction than NoMi. Joplin is a big enough city that residents' socioeconomic demography would have some overlap with that of Minneapolis. One interesting barrier to comparison is that exactly equal time has passed; I asked myself, what's to compare so soon? (It shouldn't be a contest.) Instead I went back further to determine what other U.S. communities bore the burden of the damage along a tornado path, then set themselves on a sustainable road to recovery over time. A date of four years earlier — 2007, also in May — surfaced; the locus for comparison was tiny Greensburg, Kansas.

On May 4, 2007, Greensburg bore the devastating brunt of an EF5 tornado, with wind speeds at or over 200 mph. Its path was reported as two miles wide. Death count was 10, and 90-95% of the town was destroyed. Nearly all residents were made homeless that day. (Path of tornado below is courtesy EPA. Looks a little bit like a fractal pattern, see sidebar.)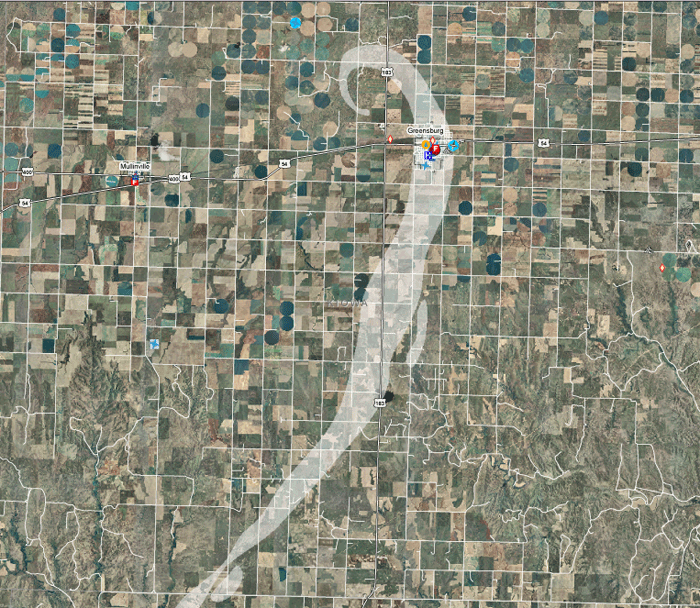 Greensburg is neither a Joplin nor a Minneapolis: it is small, with a population just under 1,400 at the time the tornado arrived. Do other demographics overlap? — not really, for example, Greensburg was 96% white in 2007.

So what might interest us about Greensburg, now a few months short of five years after a tornado utterly destroyed it?

Greensburg's Post-Tornado Summary
Ms. Dorothy ("Wizard of Oz") Gale would be impressed with the above factoids!

It's fair to assume that Greensburg has never had to care that much about abandoned properties. There certainly were no data readily available to map that. The other end of the continuum offered more, building permits; basic data for that was easy to find. Unsurprisingly, post-tornado permits soared. No single-family-home permits were issued from 2004-2006, whereas they numbered 244 from 2007-2009. Greensburg went from 0 to 96 alone from May through December 2007.

Back to Maps

As Greensburg and North Minneapolis each arrive at their respective anniversaries, what are their post-tornado maps looking like now? Is there any hint of a "sustainable-minded future" for their communities?
I made one map and found three others, the middle two below published two months apart late last year...
Once again, we have maps that speak for themselves. In the case of Greensburg, the Google Earth overhead snapshot marks a dozen new properties, a mix of homes and buildings. Notice that trees are still too few.
In the case of the civic map below, each of the swarm of little blue rectangles is a brand new home, perhaps LEED-certified but for sure between 35 and 75% more energy-efficient than its predecessor.
The Penn Avenue redevelopment map (below) has no multicolored gems, rather it is mostly grayscale, an engineer's artifact: factual, and quiet, too quiet. It has some blue: NoMi's hoped-for redevelopment lots, but many with uncertain status.
It needs many more of its own colorful spots, like Greensburg's. If I had a say the first one would be a 2,000 sf art center celebrating the art of what – maybe tornadoes? (See sidebar.)

You probably have heard that maps lie, or perhaps it is that they rarely tell the whole story. With all its blue dots Greensburg's map is less than honest about the town's absence of trees. Sorry, it is both sadly true and truly sad that regrowth just takes time. Estimates back in 2007 were that about 5,700 trees needed replacement in order to return Greensburg's tree canopy to pre-2007 levels of 25%. Current status is that plantings have continued, and community forester Tim McConnell told me he has a third of a million dollars now with which to work. Pre-2011 NoMi had 30-40% of its canopy covered by trees; the canopy map that I created below from a mapping website highlights coverage, with its medium and darkish greens; but that was then, not now. So NoMi set in motion the unique North Minneapolis ReForest Project. Tree expenditure/planting now underway is, like Greensburg, funded at nearly a third of a million dollars, or about $100 per tree. (The only glitch is the "impound dilemma": tree pick-ups by interested residents have to happen at the infamous Minneapolis towed-vehicles lot, the least favorite place on the planet for anyone living in Minneapolis! Go figure.)

I have not visited Greensburg but I do regularly attend concerts and theater in NoMi. There is so much the two communities can learn from each other, if and when they compare accomplishments and share maps – honestly, with abandon.
§§§
Tornado museums? — there are surprisingly very few:
Tornadoes – the science...
• Video broadcast: Nova's HUNT FOR THE SUPERTWISTER — do yourself a favor and take a look at the last part (6); its supercomputer animation — with fly-through-style views and time passing — is astonishing
• Another video broadcast to do with what many consider to be the fundamental pattern to a tornado, fractals: Nova's FRACTALS–HUNTING THE HIDDEN DIMENSION; and there is a website image here that seems to bridge both science and art

…the art...
• Photography of tornadoes is endlessly attractive, here's one of hundreds of websites on the topic
• Michael Kareken, Minneapolis painter, printmaker, and teaching colleague of mine, shared a fine-art example with me, displayed (with kind permission) below; it is a drypoint titled Tornado and Telephone Poles...