One Size Does Not Fit All: Different Approaches to Transit-Oriented Development
While cities across the West are implementing different approaches to transit-oriented development, the end goal is the same: create vibrant commercial, residential, and business centers, accessible by public transportation that capture the community's unique needs.
Cites are going beyond the strategic plans and guidelines that haven't always been successful integrating transportation and land use. Now more than ever, cities are considering how mixed use zoning and transportation systems work together to shape a community and its residents commute patterns. Through collaboration of local transportation and planning staff, community groups, local businesses and the public, cities can devise well-rounded approaches to transit-oriented development specific to the needs of each community. Development around the transit system, known as transit-oriented development (TOD), often results in nodes of retail, restaurants, and housing that capture a neighborhood's values and needs.
The Successful Communities Online Toolkit information exchange (SCOTie) is currently featuring three TOD case studies that show how important it is for planners to keep in mind that a single vision for TOD does not fit all types of communities. The cities of San Francisco, Denver, and Santa Fe illustrate that there are a variety of TOD approaches cities can take to create unique developments that are accessible and convenient to residents.
San Francisco's Bay Area Rapid Transit District (BART), with the guidance of the Transit-Oriented Development (TOD) Guidelines and the Transit-Oriented Development (TOD) Policy works together to encourage higher density development within walking and bicycling distance of BART stations. BART operates a 104 miles rail transit system with 44 stations that run in four counties around the Bay Area and interconnects with the larger regional public transit system.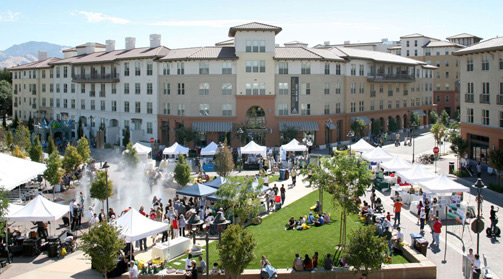 The BART 2008 Strategic Plan uses Station Area planning, a method that identifies the type of commercial and residential development that residents desire on or near different BART station property. The Pleasant Hill BART station is considered one of the most easily accessible stations in the city. This station connects to BART, public transit buses, Highway 680, and the Iron Horse pedestrian and bicycle trail. The Pleasant Hill BART Station Property Code models a form based code to guide development that connects the station with public accessibility. A form based code is a valuable tool to making sure public transportation stations and surrounding mixed used development is highly accessible.
In conjunction with Station Area planning, the City of San Francisco also uses equitable transit-oriented development. Equitable TOD encourages the development of housing near transit stations meant for renters or buyers at different income levels. This sets the foundation for lower income residents to live in areas that are accessible to a wider variety of city services and jobs and the opportunity to live car-free. A Mixed-Income Housing TOD (MITOD) Action Guide, developed in 2008, provides Bay Area stakeholders with strategies to increase mixed-income TOD, such as offering affordable housing near transit stations.
Citywide accessible transit is a goal that Denver, Colorado continues to achieve by integrating TOD principles into the City's strategic plan. To respond to growing transportation needs, Denver is building more transit infrastructure and stations than any other city in the region. The Regional Transportation District's (RTD) FasTracks initiative is a $6.9 billion infrastructure investment, providing 119 miles of new track, 70 new transit stations, 18 miles of bus rapid transit service, 21,000 new parking spaces at rail and bus stations, and expanded bus service in all areas
Denver's strong downtown core with higher density neighborhoods sets the foundation for light rail and bus rapid transit (BRT) lines to the downtown area, which will serve a large number of residents and commuters. The City of Denver emphasizes several smart growth approaches in their public transit plans including location efficiency and placemaking.
Increasing Denver's "location efficiency" or residents' proximity to transit and mixed-use development requires orienting commercial, retail, residential, and public spaces around public transit stations. Placemaking to create urban spaces that are flexible and functional is also an important aspect of TOD. Denver implements placemaking by developing streets that are attractive and accommodate multi-use infrastructure. Using trees, lighting, benches, building awnings and weather protections provides residents with a sense of comfort and encourages walking and biking.
Denver recognizes that one type of TOD does not fit every neighborhood in the City. Denver's 2006 Strategic Plan identified seven TOD stations typologies, specifically: downtown area, major urban center, urban center, urban neighborhood, commuter town center, main street, and campus/special events station. These TOD typologies address how new and old neighborhoods require different approaches to address transportation needs. The 2006 TOD Strategic Plan also outlines transit corridors, walkable areas surrounding transit lines, which help to determine how easy it is for pedestrians and bicyclists to access the transit line.
Similar to San Francisco, Denver is focusing on making transit-oriented development affordable to all residents. Mile High Connects is an organization that focuses on increasing the availability of affordable housing that surrounds RTD transit services.
Santa Fe, with a population of about 68,000, focuses much of its economic development and entertainment on the approximately 1 million tourists that visit each year. Starting in the 1930s, Santa Fe redeveloped the downtown historic plaza in order to draw more tourists to the urban core. However, city residents also wanted commercial and entertainment to serve the needs of the local residents. Thus the Santa Fe Railyard became the center of transit-oriented development by supporting local business, providing commuting options for residents, and integrating cultural values.
The City's support of transit-oriented development was realized through several noteworthy planning decisions. In 1995, the City and Mayor Debbie Jaramillo purchased 50 acres of the Railyard with financing support from the Trust for Public Lands (TPL). In 2000, the TPL and the City approved a 13-acre conservation easement agreement for a plaza, alameda, and a 10-acre park that is complete with a performance green, playground, and bike and pedestrian trails. In 2002, the City transferred redevelopment responsibility of the 35 acres designated for mixed-use development in the North Railyard to the Santa Fe Railyard Community Corporation (SFRCC), a non-profit organization that serves New Mexico. The City decided that this shift in responsibility allows funds to remain publically owned and will encourage money to flow back into the Railyard more efficiently.
To attract local business that are important to the community, Santa Fe, in partnership with the SFRCC, developed a program that reduces the leasing costs to local business to lower the financial barriers to entry and gives local businesses a chance to compete in the market. Currently, only 6% of Santa Fe Railyard tenants are national businesses, while 68% of tenants are community non-profits and locally-owned businesses. In addition to local businesses, the North Railyard includes horticultural programs sponsored through the Railyard Stewards and four community-based nonprofits.
Successful implementation of TOD emphasize accessibility, equity, and strikes a balance between supporting economic development and attracting locally-owned businesses. San Francisco, Denver and Santa Fe illustrate that TOD can be successful through collaboration and the understanding that no two TOD plans need to be alike. Cities can provide a significant service to residents by coordinating the transportation system with commercial, residential, and business development. Transit-oriented development is one way to create high density nodes that are vibrant, while supporting principles of sustainable urban development.
For additional information contact:
San Francisco, CA: Planning Information Center (PIC)
Denver, CO: David Gaspers This e-mail address is being protected from spambots. You need JavaScript enabled to view it. , AICP, 720-865-2936
Santa Fe, NM: SFRCC Executive Director Richard A. Czoski This e-mail address is being protected from spambots. You need JavaScript enabled to view it. , CCIM, CPM, 505-982-3373; City of Santa Fe Director of Current Planning Gregory Smith This e-mail address is being protected from spambots. You need JavaScript enabled to view it. , 505-955-6957
Completed Case Studies on the SCOTie Toolkit:
San Francisco, CA Bay Area Rapid Transit District (BART)
Denver, CO Transit-Oriented Development Program
Santa Fe, NM North Railyard Redevelopment Initiative