Dive Brief:
The City of Columbus issued a request for proposals (RFP) for IT firms to build the Smart Columbus Operating System (SCOS), which will power the city's mobility initiatives and capture data on traffic, parking, road closures and other transportation-related information, according to Columbus Business First and others.
The RFP calls for 42 jobs to complete the three-year data hub build-out. Submissions are due on Feb. 13, and the chosen firm will likely begin development in April or May.
The city hopes to build the data hub in a way that is scalable to become "the citywide data management platform for public and private data," according to the RFP.
Dive Insight:
Early stage development of the SCOS has been ongoing for months, and was even a topic of discussion at Smart Cities Week in October, during which Smart Columbus Director Jordan Davis said the system is "truly the heartbeat of everything that will make us smart in this sector." The RFP outlines that the desired outcomes for the overall Smart Columbus Program are improved safety, enhanced mobility, enhanced access to opportunities, and reduced environmental impact — all of which will be driven by the SCOS.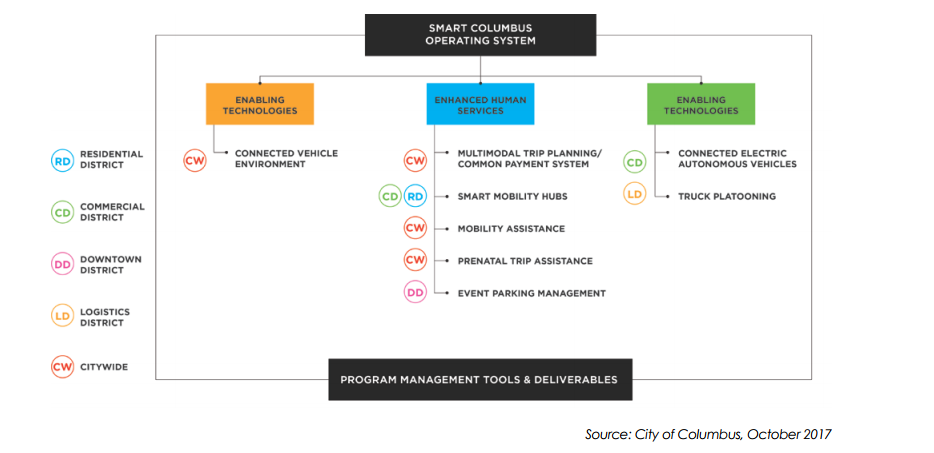 These efforts to push Columbus toward a more connected future are not surprising, considering Columbus has been in the smart city spotlight since it won the 2016 U.S. Department of Transportation (USDOT) Smart City Challenge, a victory to the tune of $50 million total in grant money. It is unclear how much of the grant money will be used toward building this SCOS; in the past few months, the city changed a number of the projects under the grant budget in order to optimize the funding. However all of the projects that will utilize the DOT funding are data-driven, indicating that the SCOS is a needed asset.
Columbus is wise in its efforts to make the SCOS a scalable system that can be used across all city departments and various sectors. Inter-departmental communication is a key challenge in smart city growth, and purposefully leveraging data-sharing capacity from the get-go is a promising tactic to enable steady and successful expansion.