As cities across the U.S. look to reduce congestion on their streets, more are taking deliveries and safety initiatives to the skies, with a new drone initiative from the federal government helping drive those efforts.
In May, the Federal Aviation Administration (FAA) announced 10 selectees for its Unmanned Aircraft Systems (UAS) Integration Pilot Program (IPP). And of those honorees, many are looking at projects that will help reduce traffic congestion on city streets and enable governments and private companies to explore how drones can be used to make everyday life more efficient.
"Data gathered from these pilot projects will form the basis of a new regulatory framework to safely integrate drones into our national airspace," Secretary of Transportation Elaine Chao said in a statement when the 10 participants were announced.
In an October 2017 presidential memorandum directing federal agencies to establish the three-year IPP, President Donald Trump called for "a coordinated effort" between the private sector and governments at the state, local and tribal level to allow for the sharing of best practices between the 10 final projects.
It also allows flexibility on FAA restrictions on drones, meaning in these projects they can be flown beyond the visual line of sight, over people, or at night — options that currently are not permitted by law but can be waived for IPP participants.
Already, testing has begun, with companies like AirMap and other private sector partners providing traffic management and software among other services.
"The huge benefit of the IPP is allowing private sector companies to enter partnerships with state, local and tribal governments to perform these types of operations and to show the risk mitigation strategies to the FAA to help inform the regulatory process," Sezen Jones, director of public policy at AirMap, told Smart Cities Dive.
On-demand transport for medical supplies
An area of drone research already making strides is the delivery of medical supplies; not only delivering equipment but also samples for testing in laboratories. Reno, NV conducted a test in September to deliver multiple automated external defibrillators as part of its IPP participation in partnership with drone company Flirtey.
In San Diego, another of the IPP awardees, one problem that the city and medical community has run into is the need to transport samples between the laboratory and the testing site. Not only do the couriers' vans clog streets, but they also need to be carrying a certain number of samples to make a trip financially viable, meaning some may wait hours before testing.
"With medical specimen transport, we found that a lot of hospitals either don't have labs within their complex or they don't have sufficient lab capacity to process all the medical samples that they take: blood, urine, any kind of biological samples they might take," San Diego's Senior Homeland Security Coordinator Tiffany Vinson told Smart Cities Dive. "So the hospitals wait until they have enough samples from multiple patients in order to justify sending a courier out, because every time you send a courier out it costs you."
North Carolina, which is also a participant in the IPP, found it had similar problems. In an interview with Smart Cities Dive, the North Carolina Department of Transportation's (NCDOT) UAS program manager Basil Yap noted that one hospital and laboratory are separated only by a four-lane highway, however with no pedestrian flyover, a courier must get in a car or van to transfer samples.
Meanwhile, NCDOT is faced with issues in the rural areas of the state as it tries to connect its clinics and hospitals with places where its samples can be tested, and with the storage and transportation of prescriptions to places where patients can pick them up. But those trips can be long, considering what is needed.
"Maybe they're just simply going to that hospital to get a certain prescription or medicine, and the reason they would need to go to that hospital is because the value or shelf-life of that particular prescription or medicine was just too high for them to then push out and store in a rural clinic for a time, because for the cost of it, it may expire before it's used," Yap said.
Instead, drones in both participating programs will be used on-demand to transport medical supplies, drugs and samples to places where they can be picked up, either by professionals for study or by patients looking to fill a prescription.
Yap said North Carolina's medical delivery drone service is modeled on what private-sector partner Zipline has already done in Rwanda, where the company has centrally located the blood supply in the country and can respond within minutes to a request from a doctor to send it to outlying clinics.
That strategy prevents blood from expiring and has helped Zipline become the sole distributor of blood for Rwanda's Ministry of Health. Yap said given the logistical challenges of distributing in rural North Carolina, there were plenty of lessons to be learned from Zipline's efforts in Rwanda.
"That's what we're hoping to produce here in North Carolina: pharmaceuticals that are very specific to a certain condition or a medicine used for a trauma or some other event that doesn't happen all the time, but you do want to have on storage ready to get distributed in case of an emergency," he said.
Vinson said putting medical samples on drones rather than relying on couriers makes it far more efficient, not only as it can be on-demand but also because it takes courier trucks off city streets.
"If we're able to take these specimens immediately after being taken and send them to the lab via drone, that could shave hours off wait times for people in the ER, because you're no longer waiting for the hospital to get 10 or 20 specimens, you're now near instantly getting medical results processed," she said.
Driving efficiency with package and food delivery
It is not just in medical delivery where drones can make cities more efficient. Package and food delivery are also being explored as areas for further development.
One of San Diego's partners on food delivery by drone is Uber, although based on the company's movements in recent weeks it appears unclear how far along that project is. Given the constraints on the city's curb space and the need to keep traffic flowing freely, Vinson said it should have a big impact.
"With industry, I think we're looking at a need for more efficiency," Vinson said. "These are currently done by courier or by driver on the ground. The more efficiencies we can gain, the better, and the lower the costs that can be passed onto the consumer. For the food delivery, they'll be able to deliver food from further away more quickly."
That may mean fewer jobs for delivery drivers in a changing industry, but Vinson said that instead, workers should be prepared for new jobs associated with drone technology. "Rather than a courier, we're going to need safety inspectors and operators for the machines," he said. This is similar to research from the National League of Cities (NLC), which urged municipalities to prepare their workforces for the influx of artificial intelligence (AI) changing employment.
Yap said NCDOT will look to institute a similar package delivery system once the medical samples system is up and running, while the Herndon, VA-based Center for Innovative Technology and other partners in the public and private sectors are studying something similar.
"Unmanned aircraft systems hold great potential for commercial use, and Virginia is charting the path forward," Rep. Morgan Griffith, R-VA, said in a statement.
The ability to make deliveries using autonomous technology could also progress to a point in which deliveries are made with no need for human control, Yap said.
"The natural evolution from why drones are so successful now is because of this autonomous portion of them that they can do a lot of things on their own," he said. "When we look at that autonomy, we obviously will see that flying drones will turn into package delivery and then in the future will turn into moving larger packages and probably people."
Aiding response to natural disasters
San Diego's program also is notable for its integration of a public safety aspect, which will help firefighters and police officers respond to fires and other incidents and get quick reports on the level of response needed.
The city will pre-station drones in a designated test area, and if a 911 call comes through for an incident that puts people in immediate danger, like domestic violence or an active shooter, the drone will respond to the incident site. It can then take video and relay that footage back in real time to a command center, where officers will decide on the level of response needed.
That also will be useful for fires, with the San Diego Fire-Rescue Department (SDFRD) able to send drones to quickly assess the level of response needed. That airborne assessment means that fire trucks will not congest city streets as they respond to a situation and assess it, then can respond to calls elsewhere more quickly if their assistance is not required.
"If SDFRD gets a call that one apartment is on fire, they usually dispatch four or five crews because they anticipate it spreading past the one apartment," Vinson said. "However, if it's a small fire and they think they can put it out quickly, they can call back two or three of those crews and handle the situation with only two."
San Diego is partnering with the city of Chula Vista, CA, the San Diego Regional Economic Development Corporation and drone technology company Cape. As first response becomes more reliant on technology, officials said drones will increase efficiency and also help officers stay safe in what could be life-threatening situations.
"The concept of using drones to respond to calls quickly will ensure our officers have the information and decision quality data to make the best choices in any given situation," Chula Vista Police Chief Roxana Kennedy said in a statement accompanying an announcement that the city's police department has already completed more than 30 drone flights.
After Hurricane Florence hit North Carolina, NCDOT sent up 15 drone teams to collect data and take photos of affected areas. The drones flew 260 missions and collected more than 8,000 images and videos to put on a statewide map. With cities like Wilmington cut off for a week after the storm, Yap said drones could help deliver supplies and restore connectivity when helicopters are otherwise engaged.
"Often people think, why don't you just throw it on a helicopter and take it out there," Yap said. "Well the helicopters were being used for search and rescue. So in the background, if you could have drones delivering medical supplies, delivering diabetic medicine, things that people need in the background, doing it autonomously and then the helicopter operators can continue with the search and rescue."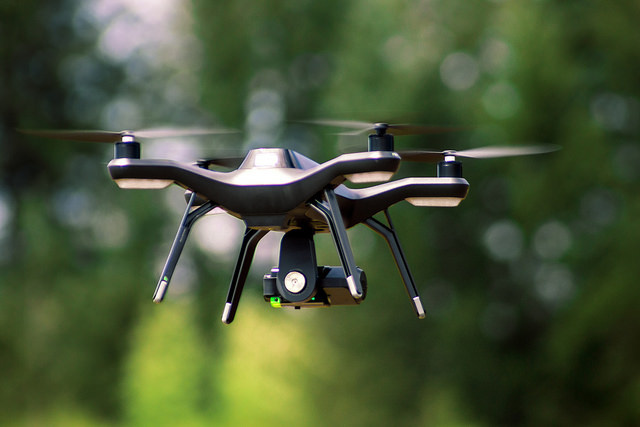 Quicker, safer inspections and logistics
The Memphis International Airport in Tennessee has the distinction of being the busiest airport in the world between 10 p.m. and 5 a.m., and with the city's participation in the IPP, it will look to reduce the vehicular traffic on its land and make operations more efficient.
Scott Brockman, president of the Memphis-Shelby County Airport Authority responsible for Memphis International Airport, said that drones can be used to inspect the property's fence line for damage or imperfections, which reduces vehicular traffic on the 1,000-acre site. Those drones would take high-definition photography and relay it back to the control tower in real-time, and if anything untoward is spotted it can be inspected by airport workers.
A similar principle applies to inspection of cargo planes, with the airport also home to the FedEx Express global hub. Brockman said that between 10 and 11:30 p.m., around 170 planes typically land, have their cargo offloaded and sorted before they are loaded up and sent away, starting at about 2:15 a.m.
During that time on the ground, crews inspect each plane by hand to check for anything that could interfere with the operation of the aircraft. But with a drone, Brockman said, every inch of a plane can be examined and be done quicker, with humans on hand to make any necessary fixes.
"What if you could take a drone and fly that airplane with the exact specs that Boeing issued for that exact 777?" Brockman told Smart Cities Dive. "[Once] it reports it back, the mechanic and pilot can then inspect it and they know exactly what to look for. But it does it much quicker and more safely, because I don't have a mechanic or maintenance guy hanging off a bucket truck trying to get close to the plane and see what's going on."
San Diego has similar goals for its drone program to help with logistics. At the city's southern border with Mexico, trucks coming in are inspected by officials from U.S. Customs and Border Protection (CBP), with the trucks' weights and manifests checked and verified before it can proceed.
That can create delays for trucks coming in, with Vinson estimating that those delays cost the city around $500 million in direct annual revenue, either because trucks choose to enter through different points or because some goods spoil due to the delays.
But by using drones, the city and CBP could inspect the trucks and match its vehicle identification number, all making inspections quicker and more efficient. Vinson said there is also a scheme to fly drones back and forth between Mexico and San Diego — some with plans filed with the FAA and others not — to work on identifying which are controlled by smugglers and criminals.
That plan would help law enforcement work on methods to intercept illegal drones, which sometimes drop drugs and other paraphernalia at a federal prison close to the border.
"If we can get some efficiency down there at the inspection with freight trucks, we can get more trucks across the border and help business come through San Diego and take back some of that revenue we're losing," Vinson said.