At the 2018 Code Conference held last week in California, Mary Meeker — often dubbed the "queen of the internet" — took the stage for a highly anticipated presentation of this year's top internet trends. Meeker, a partner at venture capital fund Kleiner Perkins Caulfied & Byers, highlighted everything from the rise of social media use to e-commerce spending, ending her presentation with an astute reminder: "We're living in a period of unprecedented change and unprecedented opportunity."
Of the trends Meeker presented, a number of them have significant implications for the smart cities industry, likely to create such opportunities for city leaders, tech vendors and entrepreneurs. The following is a list of the top trends presented that can highly influence or indicate the future of smart urban growth.
1. Access to Wi-Fi is increasing drastically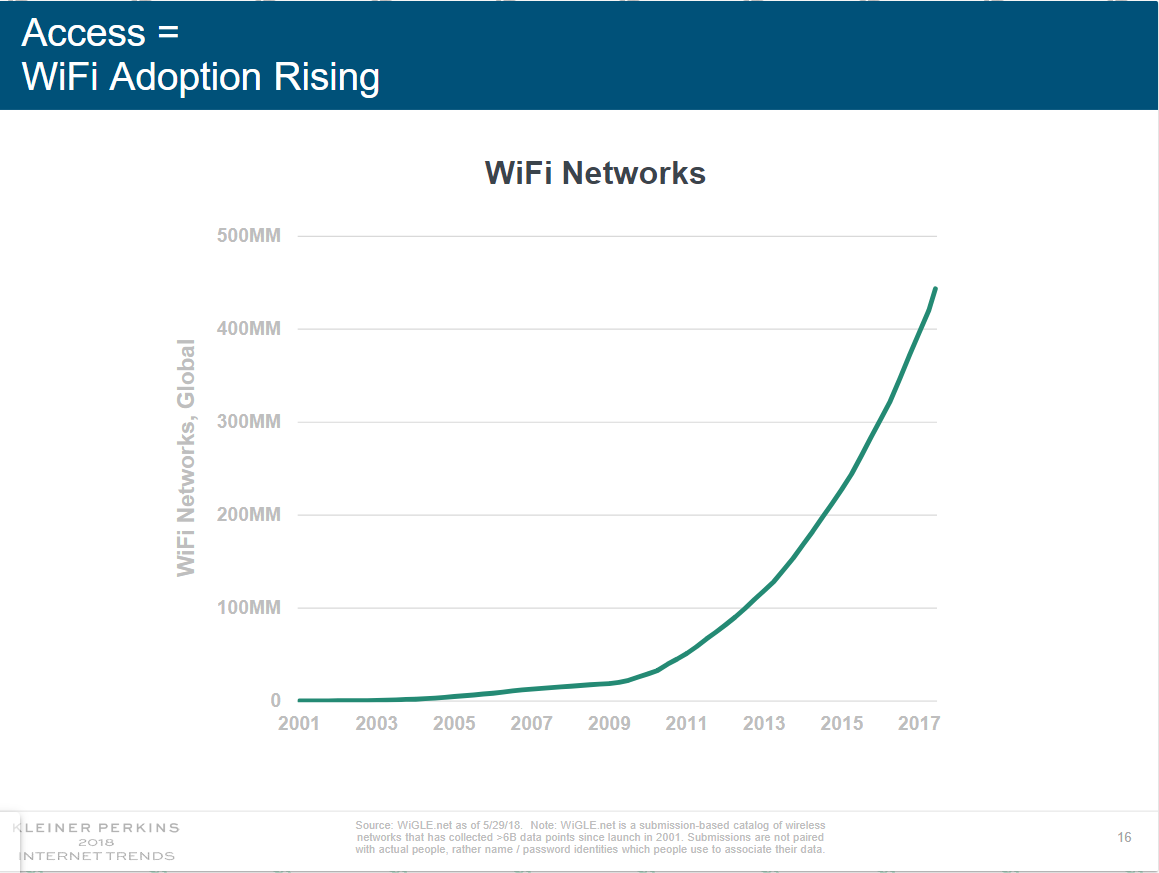 Access to Wi-Fi has increased at a rapid pace globally, partially due to efforts to bring free Wi-Fi to highly populated metropolitan areas and bridge the "digital divide." Meeker noted that this rise has allowed various digital products and digital payment options to become more pervasive, increasing consumer convenience and access to tech-driven opportunities.
2. Population density in international cities is far outpacing that of U.S. cities
Despite population booms in dozens of U.S. cities — recent data from the U.S. Census Bureau found that San Antonio, TX faced a growth rate of 1.6% last year, followed by significant growth in Phoenix, Los Angeles and Seattle — domestic cities remain less densely populated than other developed countries like the U.K., Japan and South Korea. The rise of megacities in these countries has resulted in increased carbon footprints and various housing issues, which U.S. cities are also likely to face if suburban communities lose appeal.
3. Home-sharing is a driving force of the gig economy
Meeker noted, "Airbnb provides income opportunities for hosts," estimated at $6,100 annually per home-sharing space. Airbnb has become a driver of the gig economy, with an estimated 500,000 U.S. hosts using the app to share their space and offer a hotel alternative to city dwellers. The trend of short-term home rentals has shook cities like New Orleans and Boston that worry about their effect on housing, though due to consumer demand for Airbnb-like options, it is in cities' best interest to collaborate with such businesses.
4. Uber has become more economically viable than car ownership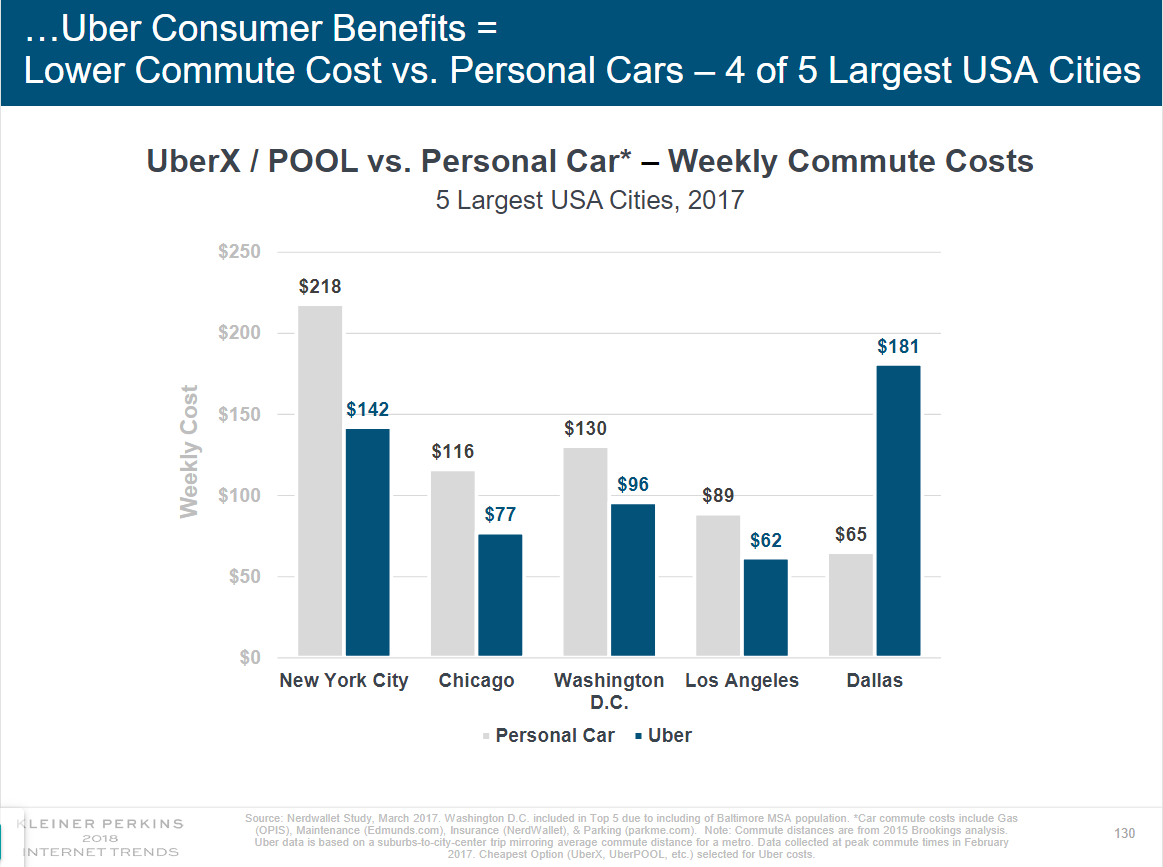 In February, Uber and 14 fellow mobility companies signed the Shared Mobility Principles for Livable Cities, a pledge to make cities more livable by reducing the use of personal cars. Through price alone, Meeker suggests that Uber's platforms have proven more cost-efficient than owning a personal car in four of the five largest U.S. cities — and growing ride-share, bike-share and scooter-share options will likely continue to offer cost benefits to consumers. 
5. Desired worker benefits could alter commuting trends
"Job expectations that are evolving, the most desired non-monetary benefit for workers is flexibility," Meeker said. "Freelance work is growing three times faster than the growth of the total workforce." As employers continue to demand work-from-home and flexible schedule policies, such trends can have a positive effect on urban congestion, specifically during rush hour times. It is estimated that bottlenecks in the nation's 25 most congested cities could cost commuters $295 billion over the next decade, however cities can alleviate this cost by encouraging flexible work environments.
6. Privacy protection laws are increasing globally
"Data gathering and optimization, it's been years in the making. It's increasingly global and competitive," Meeker said. But with that has come a fear of compromised privacy, and a dedication to increasing data privacy laws. "The EU, Asia and Americas are rising their regulatory focus on data collection and sharing, while China is encouraging data collection."
In late May, the EU enacted the General Data Protection Regulation (GDPR), a comprehensive data protection and privacy regulation that has forced companies worldwide to comply with new data collection standards. Data sharing will continue to become more complex as years pass, and while GDPR is the latest data privacy push to have a ripple effect around the globe, it is likely not the last.