Dive Brief:
The National Highway Traffic Safety Administration (NHTSA) on Thursday announced it granted autonomous vehicle (AV) company Nuro with a temporary exemption from certain federal requirements on low-speed driverless vehicles.
The exemption applies to Nuro's R2, a zero-occupant, low-speed delivery vehicle designed to carry consumer products such as groceries, packages and restaurant orders. Nuro is the first company to be granted such an exemption, marking "a milestone for the industry," Nuro Co-founder Dave Ferguson wrote in a blog post.
Ferguson said R2 will begin public road testing in Houston in the coming weeks. Nuro will be permitted to deploy 5,000 R2 vehicles during the two-year exemption, according to NHTSA. 
Dive Insight:
R2 is a second-generation vehicle from the AV company, which successfully launched its R1 vehicle in Scottsdale, AZ in December 2018 through a delivery pilot with Kroger. The R2's strategic design includes zero-emission propulsion and a custom battery solution, and due to the exemption, it will not include features such as mirrors or a windshield, which are traditionally required by the U.S. Department of Transportation (USDOT).
In a statement, U.S. Secretary of Transportation Elaine Chao said such requirements "no longer make sense" for Nuro's newest vehicle, since the vehicle will not hold humans.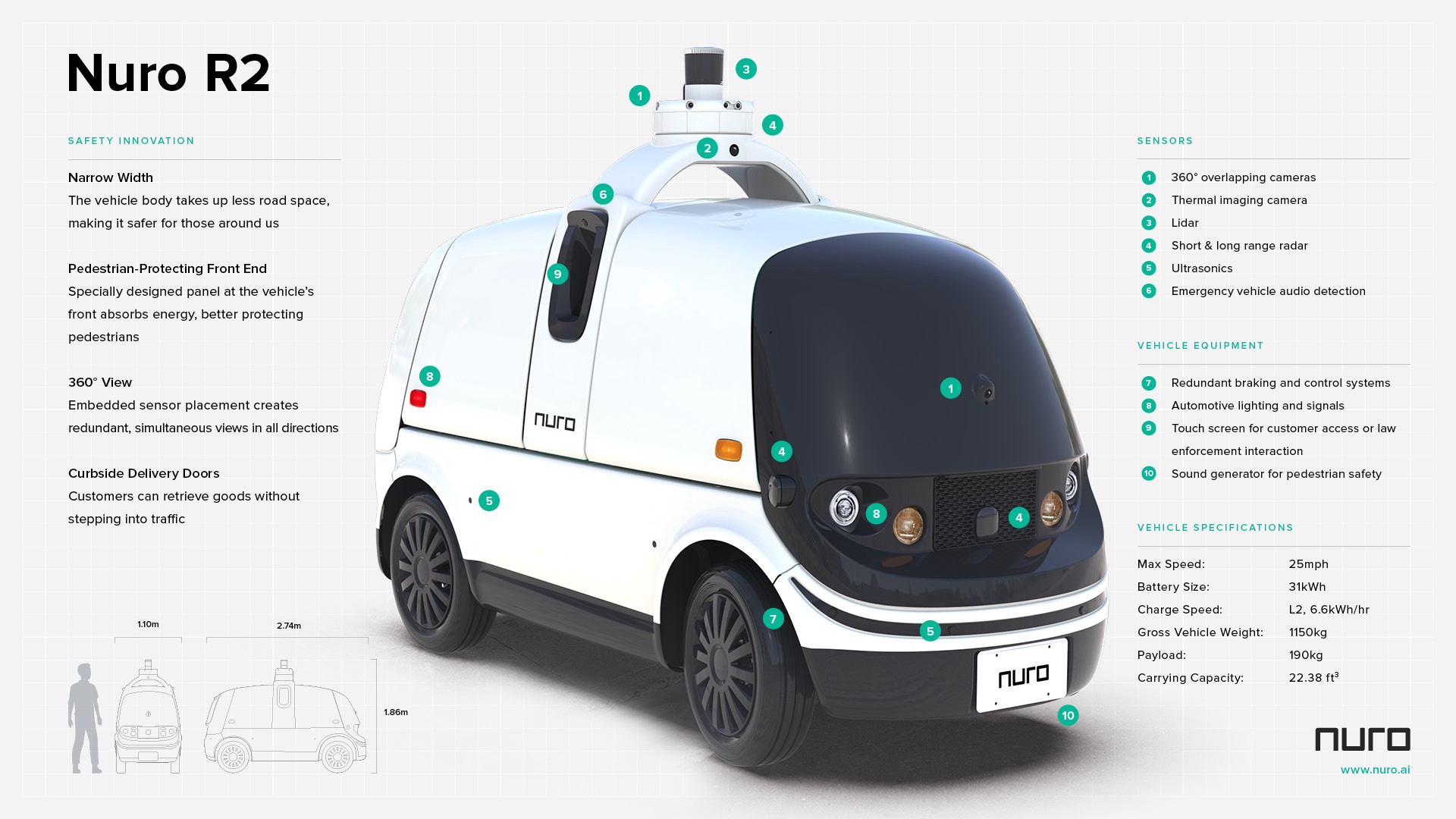 Ferguson said the exemption follows three years of discussion with the agency to figure out how to separate requirements on zero-occupant delivery vehicles, like the R2, from driverless vehicles designed to carry passengers. In late 2018, the company even submitted a voluntary safety report to USDOT to accelerate the deployment of such vehicles.
He touted USDOT and NHTSA's exemption process as one designed to accommodate these types of disruptive vehicle technologies, showing the agencies' willingness to allow safety and innovation to "advance together."
Once on the road in Houston, the R2 vehicles have the potential to transform how consumers interact with on-demand deliveries. In June 2019, Nuro announced it will eventually launch a pizza delivery partnership with Domino's, which will be complimented by R2 vehicle tracking via the Domino's app. Nuro also announced a partnership with Walmart for grocery deliveries, and the company is reportedly in talks with Uber about a partnership to automate Uber Eats deliveries. 
While foodies in Houston may be excited about this step forward for Nuro, some industry leaders are disappointed in NHTSA's decision. In a statement, Larry Willis, president of the Transportation Trades Department, AFL-CIO (TTD), said the exemption was issued "without any thoughtful regulatory framework in place," and puts the "interests of tech companies over the safety of the traveling public."
"Until legitimate safety concerns raised by transportation labor and many other key stakeholders are addressed, the exemption of standard safety features on autonomous vehicles is a dangerous and completely irresponsible abdication of NHTSA's duties," he said.
Other organizations, like Securing America's Future Energy (SAFE), have applauded the NHTSA decision.
"Granting this exemption is an incredibly important step forward in fully realizing the tremendous potential of self-driving vehicles": SAFE commends NHTSA's approval of Nuro's exemption petition—and urges NHTSA to expedite consideration of Cruise request https://t.co/9gA9xMPnbj pic.twitter.com/xoftzkW4xh

— SAFE (@Securing_Energy) February 6, 2020
Regardless of public and industry feedback, it is likely Nuro will move forward with its deployment plans and pave the way for similar self-driving delivery companies. And as such delivery vehicles are tested, it is expected consumers will become more comfortable with the concept of driverless vehicles.
A November 2019 survey from SAE International​ found 82% of respondents are enthusiastic about passenger-carrying self-driving cars, however 92% said they'd want the ability to control the vehicle if needed.​ In January, Chao unveiled USDOT's newest AV guidelines, AV 4.0, that aim to quell consumer fears, prioritize safety and security and promote consistent standards and policies​ for the deployment of self-driving vehicles.
During Nuro's exemption period, the NHTSA will closely watch the company and require mandatory reporting regarding the operation of R2s and their automated driving systems. "As always, we will not hesitate to use defect authority to protect public safety as necessary," said NHTSA Acting Administrator James Owens in a statement.