Dive Brief:
Rising temperatures associated with climate change could result in more than 2,000 additional deaths each year from injuries like drownings, falls, car accidents, assault and suicide, according to

a new study

published in the journal

Nature Medicine

. 

If each month in each state were 1.5 °C above the long-term average​,

traffic accidents would be responsible for the greatest increase in injury deaths, followed by suicide, ​according to

the study. 

Proportionally, deaths from drownings would increase more than those of other injury types — as much as 13.7% in men aged 15 to 24.

The study — written by authors from Imperial College London, Columbia University and Harvard University — found most of the additional deaths (84%) would occur to men, with 92% of those excess deaths occurring to men between the ages of 15 and 34. California, Texas and Florida were the states with the most projected deaths.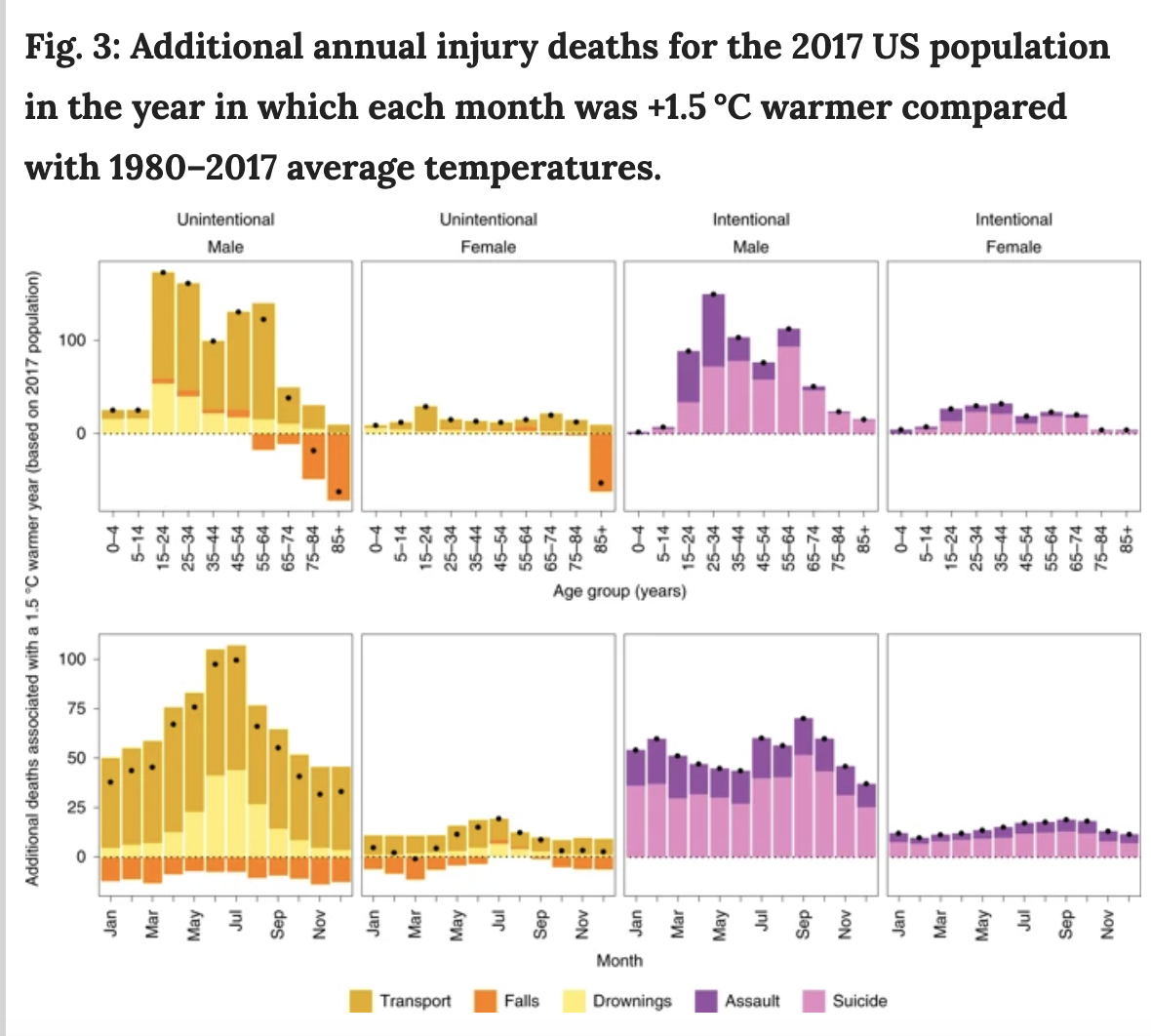 Dive Insight:
Many studies have examined the impact climate change could have on rates of infectious or non-communicable diseases, largely projecting negative health impacts as temperatures rise. But injuries, which are responsible for nearly 10% of deaths worldwide each year, have been less studied. That, said co-author Robbie Parks, means policymakers could be missing some potential impacts, especially the "hidden burden of mental health."
"Climate change and rising temperatures have been seen as affecting certain causes of death … and affecting certain populations, like the elderly or other vulnerable people," Parks told Smart Cities Dive. "According to our study, this is a phenomenon that will affect younger people. It kind of reframes what climate change will mean to these populations."
The study authors used data from the National Center for Health Statistics to calculate numbers of injury deaths between 1980 and 2017, then determined the number of additional injury deaths and types attributed to unusual temperatures. That model was then used to project additional deaths: an increase in global temperature of 1.5 °C​ was projected to increase annual injuries by 1,600 in the U.S., with a 2 °C​ increase bumping injuries by 2,100.
Drownings were projected to increase as more people would swim in higher temperatures. Car accidents were also projected to increase, possibly because more people drive when the weather is better, but also because people tend to sleep less when nighttime temperatures rise, leading to drowsiness on the road. However, falls, especially among the elderly, were projected to decrease, since those tend to happen more in colder winter weather. 
A 2018 study in Nature Climate Change found that higher temperatures correlate with a higher suicide rate, with every 1°C​ increase associated with a 0.7% rise in the suicide rate in the U.S. Another study from the Proceedings of the National Academy of Sciences, which used responses to a national survey, found that warming temperatures and increased precipitation were associated with more reports of mental health problems. 
Parks said those findings should spur policymakers, especially on the local level, to focus on community building and mental health as climate change continues. "We need people to look out for each other more, engendering a kind of social connectivity system," Parks said. "It ranges from the individual to the structural."