Highlights
$7 million a year for five years.
From the city's renewable energy development fund, for utilities and energy suppliers to pay into if they do not hit emissions targets.
Once a board is in place, the Green Bank is expected to start operating in the coming months.
Following the lead of various states including Connecticut and New York, Washington, DC became the first city in the United States to establish a Green Bank earlier this year.
The Green Bank, which the DC Council voted to establish in July, will provide public money in the form of loans, leases and other mechanisms to help fund green projects that expand renewable energy, reduce energy costs and GHG emissions, and create green jobs.
"Washington, DC is a global leader on environmental issues and by establishing a Green Bank, we will continue to build on the progress that helped us become the first LEED Platinum city in the world," Mayor Muriel Bowser said in a statement. "I look forward to working with all of the businesses, non-profit organizations, and residents that will benefit directly from this new tool. Together, we will continue to meet our ambitious sustainability goals while creating high-paying, clean energy jobs for residents in all eight wards."
See more award winners here!
The Green Bank will initially be funded at $7 million a year for five years, with that money generated from the city's renewable energy development fund, which was created for utilities and energy suppliers to pay into in the form of alternative compliance payments if they do not meet carbon emissions goals in DC.
Jay Wilson, program manager for the Green Bank at the DC Department of Energy & Environment, told Smart Cities Dive that money could then be invested to help homeowners retrofit their houses or to help back a loan to a commercial developer that is looking to build greener developments.
"Using a Green Bank modeled on what Connecticut has done, what New York state has done and other states — there's about 11 Green Banks in the U.S. right now — it's a way to drive investment to those projects that are looking to decrease energy use and decrease carbon emissions for the city," Wilson said.
It is the latest in a series of green initiatives for DC under its Green Energy Plan as it looks to reduce energy consumption by 50%, increase renewable energy to make up 50% of its energy supply and decrease carbon emissions by 50%.
But it should also benefit those that look to build green, either developers or homeowners looking to make their houses more environmentally friendly. Wilson said that sometimes, green developments can struggle to attract the capital they need to be financially viable; the Green Bank helps with some of the up-front costs that then can be recouped later.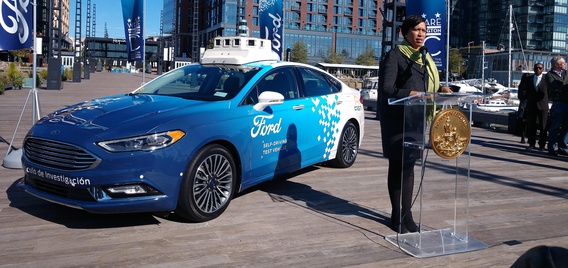 "One obstacle we've heard of is that the timing of capital is off, and so we would provide gap financing for design and early construction by the time the project is complete, then they could take their ESRECs, the solar renewable energy credits, and go out to the market and complete their financing package and pay back our short-term loan," Wilson said. "Really, the Green Bank is about solving those gaps in the marketplace."
Bowser echoed that view in remarks at the Exelon Innovation Expo, a day-long event in DC hosted by the energy company, where she said the Green Bank provides an "innovative financing mechanism to make sure that when we come up with these innovative idea for our infrastructure, that there are big dollars, big funds to enable those projects to happen."
Wilson said the Green Bank should officially launch in the spring, with Bowser set to propose nominees to its first board of directors this winter for a vote in DC Council. He said the Green Bank is just "one tool" in an aggressive strategy to combat climate change in the city, and states and cities should share best practices as more pop up nationwide. At the same time, the DC Council is advancing a bill that would set aggressive goals on the use of renewable energy and zero-emission transportation.
"We are trying to at the same time pass really aggressive building codes, revise our zoning regulations, look at building performance standards to help build the market and change the way people think about design," Wilson said. "The Green Bank is one tool. I would say we all need to learn from each other. We're learning from Connecticut and New York and other Green Banks, and hopefully other cities and states can learn from us, not just on the green financing opportunities but on some of our other policy initiatives."
Read More
By Katie Pyzyk • July 30, 2018
By Jason Plautz • Oct. 1, 2018
By Kristin Musulin • Oct. 3, 2018