The Unsustainable Truth about Land Reclamation: The Worsening Impacts of Manila Bay Reclamation
What happens when an urban project fuels alarming socio-environmental consequences? Disaster. This is what Metro Manila, a coastal megacity, and its Bay Reclamation Plan are going through.
If you happen to live in a coastal megacity with high climate vulnerability, you probably have seen or have experienced its risks, threats, and effects. It is frightening, isn't? Let us have a look at Manila Bay and its rising socio-environmental dilemma.
Manila Bay facilitates commerce and trade of the city, thru its natural harbor feature, to its neighboring countries and has long been regarded as the gateway of Philippines' socio-economic development. Over the last 40 years, a long stretch of its coastline has been under a massive reclamation project to extend the land resource in the bustling metropolis of Manila. The scale of the project will surely provide increased business opportunities, thousands of local jobs, attractive real estate developments, additional government revenues and positioning back the old glory of Manila as a premier business and tourism center.
Massive urban projects that have been realized include the 88-hectare Cultural Centre Complex, the 100-hectare Mall of Asia Complex and the 120-hectare Entertainment City while proposed projects such as the 148- hectare Solar City in Manila, the 50-hecatre extension of Manila North Harbor, and a 600-hectare infrastructure project, a public-private partnership initiative, are in the pipeline. Looking closely at these projects, it looks like a new - not expansion - megacity is being planned on Manila Bay.
Despite the positive effects such as economy and infrastructure facelift, these projects have been receiving strong and loud opposition from various civic, religious, and environmental groups. Protesters claim that these projects are not taking into account the environment. With strong support from local officials, these projects pursue nothing but revenue at the expense of social and environmental protection. It is noticeable in this case that the public sector is less influential in land development than the private sector, much like the superficial influence of civic participation in decision-making process. Unfortunately, it appears that more reclamation projects are coming along this coastal megacity in spite of the opposition.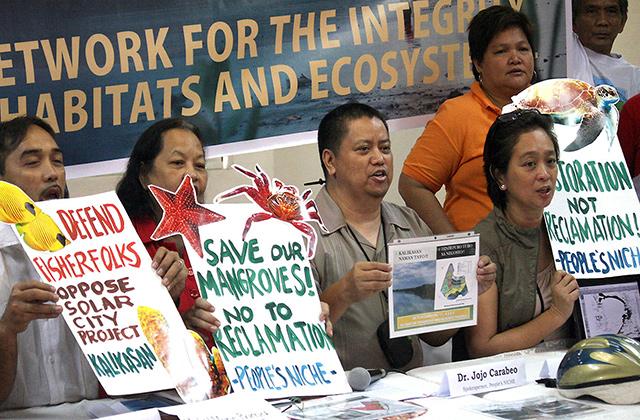 Much of the costs of the reclamation are socio-economic and an escalation of environmental challenges. The livelihood of an entire community of fishermen and a protected area that is undeniably rich in biodiversity, dubbed as Metro Manila's Last Coastal Frontier, would be greatly compromised by these projects as both stakeholders would be displaced and harmed. A lackluster concession from the government came about when they offered financial support of 15,000 Philippine Pesos or roughly 300 USD to every displaced family without any thoughts of providing them a sustainable relocation scheme. They live their entire lives on the bay and it has become an extension of their ''home'', so they deserve recognition for the issues this is causing.
Reclaimed lands are also to blame for the rise of the water level on the bay which causes massive flooding and storm surges. They badly affect not just the lives of the residents but also may shut down local economic activities particularly those in low-lying cities. These disasters actually intensify the vulnerability of our cities.
A civic group representative said '' In all aspects, this reclamation projects will not serve the best interest of our people. It is equally detrimental to the environment and especially to those people who live along the coast''.
Could it have been better if the government had carried out intensive city renewal rather than land reclamation? Or, is it just the ''environmental'' governance has gone horribly wrong?