Dive Brief:
While the City of New York has made strides in some areas of sustainability and resiliency, Mayor Bill de Blasio's administration is far from completing all of the goals in its OneNYC 2050 plan, according to a new climate action tracker from the New York League of Conservation Voters Education Fund (NYLCVEF).
The tracker highlights 13 goals across the four main areas of OneNYC: transportation, waste, building emissions and quality of life. Five of the targets have not yet been reached, and one, "double the number of cyclists," is no longer measurable as the city has stopped using the index it once used to track cyclists.
Urgency behind reaching the incomplete goals is increasing as a majority of city leaders — including the mayor and the city's comptroller, Scott Stringer — are term-limited come 2021. "We want to make sure that they understand this is a priority for people in New York City, and that we're paying attention to what they're doing," NYLCVEF President Julie Tighe told Smart Cities Dive. "We're going to hold them accountable."
| Area | Goal | Progress |
| --- | --- | --- |
| Transportation | Double the number of cyclists | Not measurable |
| Transportation | Create 200 new miles of bike lanes | Completed |
| Transportation | Ensure 250 EV charing stations are operational | Completed |
| Waste | Reduce city-collected refuse by 90% | Incomplete |
| Waste | Expand NYC organics program | Incomplete |
| Waste | Complete study on commercial waste zones | Completed |
| Buildings | Secure 100MW of renewable energy on city buildings | Incomplete |
| Quality of Life | Rank #1 in air quality among major U.S. cities | Incomplete |
| Quality of Life | Reduce disparity of PM2.5 by 20% across neighborhoods | Complete |
| Quality of Life | Clean up 750 brownfield properties through remediation | Complete |
| Quality of Life | Clean up 376 brownfields in low- and moderate-income communities | Complete |
| Quality of Life | Adopt resilient design guidelines for vulnerable buildings | Complete |
| Quality of Life | Ensure 85% of New Yorkers live in walking distance to a park | Incomplete |
Dive Insight:
OneNYC 2050, released in 2019, is the most recent iteration of the city's climate plan that was originally launched more than a decade prior. In 2007, former Mayor Michael Bloomberg unveiled PlaNYC, which detailed 127 initiatives to make New York more sustainable, including cleaning up brownfields, increasing access to parks and reducing greenhouse gas (GHG) emissions by 30%. 
Mayor de Blasio took office in 2014 and by 2015, he released OneNYC, a revision of PlaNYC that aimed to reduce GHG emissions 80% from 2005 levels by 2050, among other goals. OneNYC 2050, released in 2019, added new goals including carbon neutrality and divestment of pension funds from fossil fuel companies.
On paper, de Blasio and his team have put climate at the forefront, passing a Climate Mobilization Act in April 2019 and a Green New Deal immediately after. Since then, a number of initiatives have been enacted: the city has embraced new sustainable roof laws, has sharpened its focus on bike and pedestrian safety and has approved more stringent energy codes for buildings.
Yet as the goals of OneNYC have evolved, the methods of measuring targets have also changed, making it increasingly difficult to keep track of OneNYC and the prior PlaNYC goals, Tighe said. And while the city releases OneNYC progress reports annually, the Mayor's Office of Sustainability has only published GHG emissions levels from 2005 to 2017, which makes assessments of post-2017 initiatives challenging.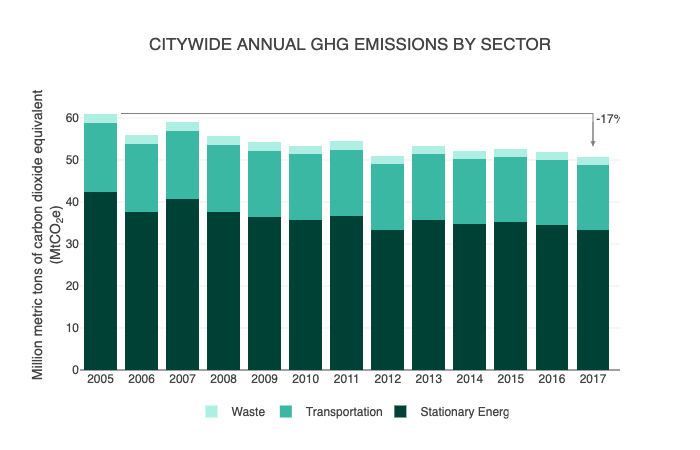 Tighe​ said NYLCVEF is anticipating OneNYC progress updates from the city soon, ideally with new citywide GHG emission numbers, yet those updates will likely not be published until this summer due to complications from the novel coronavirus pandemic. 
"[W]ith the ongoing COVID-19 pandemic ... it is advisable to wait to publish the 2020 progress report until we can fully review our OneNYC implementation efforts in the context of the City's recovery process to ensure there is alignment between the two," OneNYC Director and Climate Chief Policy Advisor Daniel Zarrilli wrote in a letter to NYC Council Speaker Corey Johnson. 
New York City Hall spokeswoman Julie Arredondo told Smart Cities Dive in an email that the city is "evaluating what it means to confront the climate crisis in this new reality." She said the input of NYLCV will be important in navigating this pandemic. 
De Blasio unveiled a "cautious" budget for fiscal year 2021 last week, citing coronavirus-related constraints for the budget's deep cuts across multiple sectors. Tighe expressed disappointment about the city's decision to cut environmental programs — particularly the e-waste collection and community composting subsidy programs in the sanitation department's budget — calling it "short-sighted."
"This is something we will be mounting a campaign around on our lobbying side of the organization," Tighe said. "And I think that there are a lot of people who are very concerned about that."
"By no means is it 'short-sighted' to prioritize saving lives," Arredondo responded, in an emailed statement to Smart Cities Dive.
While they may disagree on methods, the city and NYLCV share the same desire to prioritize climate action amid coronavirus mitigation. In his letter, Zarrilli wrote, "Even amid this ongoing health crisis, we can't lose sight of our looming climate crisis." Meanwhile, Tighe told Smart Cities Dive the pandemic should make climate issues even more pressing.
"To me, this just highlights why we need to act and we need to act quickly. We cannot wait until the crisis is too late to act on. And we certainly can't wait for the federal government to step it up," she said.