As autonomous shuttle use grows, several cities that pioneered the technology are seeing effects on transportation and public perception, and learning how factors like weather impact the vehicles.
Cities including Detroit, Denver, Columbus, OH and Las Vegas have already piloted autonomous shuttle buses, which typically carry 10 people or less on a fixed route through a section of their downtowns. Meanwhile, the likes of Providence, RI, Orlando, FL and New York City are set to launch their own service in the coming months, with companies like May Mobility and Optimus Ride among the partners to provide the shuttle technology. They say they are already seeing their partnerships bear fruit.
"I think the thing that's been most exciting for us is really the ability to get out and start working with riders ... in a way where we're really seeing upticks in ridership," May Mobility's chief operating officer Alisyn Malek told Smart Cities Dive. May Mobility celebrated 10,000 rides nationwide in its autonomous shuttles last September.
An AV education
For cities and their partners, a major benefit of these pilot programs has been using the shuttles to educate the general public about autonomous vehicles (AVs) and get them comfortable traveling in one. Public polling from companies like Gallup and AAA has found a majority of people are nervous to ride in an AV due to safety concerns, while similar concerns have made tech and auto industry officials and regulators skittish about wide rollouts.
To curb that, the shuttles' safety drivers have been a key part of the education effort. Malek said that while the human drivers are there to make sure that nothing goes awry, they are also available to answer riders' questions and allay any concerns about riding in an AV — something that they are typically experiencing for the first time.
"We see them as a really great customer education tool, and a person in there that can help build confidence and help our riders get as much information as they're interested in, so that way they're really feeling good about the ride and can come back," Malek said.
In some cities, the shuttles did not have the most auspicious of starts, but appeared to recover. Las Vegas' pilot program garnered some negative publicity after a minor accident when a delivery truck backed into one of its shuttles.
After the incident, many of the 20 million annual visitors to the city's downtown were attracted to try out the shuttles out of curiosity, having heard about them in the news or on social media. AAA, one of the city's partners on the pilot, said the shuttle attracted more than 32,000 riders from November 2017 until October 2018, when it came to an end.
"There were some folks that just jumped right on and were at first very surprised and excited to see it and then once they learned that it was free and open to ride there was no hesitation to jump on," Joanna Wadsworth, a program manager for the City of Las Vegas, told Smart Cities Dive. "I would say that there was probably a very small percentage of people that were truly hesitant and would not ride it. That was a very, very small percentage."
Meanwhile, some cities have made use of their autonomous shuttles as an educational tool for their academic institutions, in addition to showing the general public what they can do. Columbus' initial shuttle route takes in a portion of downtown that includes the city's Center of Science and Industry and the National Veterans Memorial and Museum. With students from local high schools as well as Ohio State University using the shuttles as a training tool, it is hoped there can be plenty to learn from them. The shuttles have already had more than 4,000 rides.
"They're coming to learn about the technology, see it and be inspired by what it could mean for the future. That really was the whole intent of starting in this location," Jordan Davis, director of Smart Columbus, told Smart Cities Dive.
Weathering some storms
There have been challenges for the shuttles, particularly from factors out of human control, such as the weather. Many Midwestern cities have been hit with historically low temperatures and freak weather events including ferocious winter storms known as "bomb cyclones," all of which have made it harder to operate their shuttles, but provided useful lessons.
Denver struggled with one of those winter storms just a few months after its Regional Transportation District (RTD) transit agency and its partners launched the shuttle near a commuter rail station and a new development. "That's the benefit of running as a pilot program with not a lot of passengers," RTD spokeswoman Tina Jaquez told Smart Cities Dive. "We can see how valuable it is and see how it reacts to different weather conditions."
Those weather events, as well as other more normal situations like rain and snow, have shown how the shuttle technology reacts, in particular its lithium-ion batteries, which do not respond well to inclement weather or extreme temperatures.
"It is a known fact that lithium-ion batteries like to be kept in the same temperature ranges as humans," Malek explained, noting when cold weather conditions are extreme, vehicles are left in the garage to keep riders safe.  During heavy rain, Malek said that May will often curtail its passenger services but keep its shuttles operating around city streets by its safety drivers to help the shuttles continue to learn the environment.
"We do run passenger service, and what's happening in the vehicle is the sensors are still on, so they're still getting data and we're able to pull all that data back to our servers so that way as we're doing different simulation testing, we have that as a dataset going forward," she said.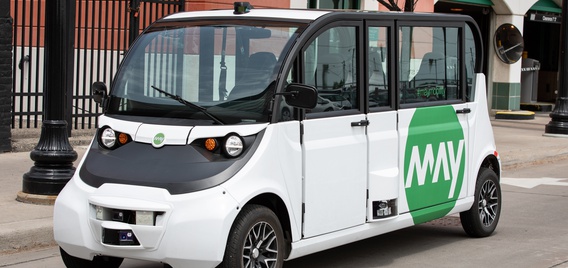 The effects of weather on the shuttles' battery life has led to cities like Columbus curtailing its service, especially during extreme cold. Davis said that the city has taken to suspending all service when temperatures are at 10 degrees Fahrenheit or below both for safety and technological reasons. Service is also suspended during snow emergencies.
"When it's really cold, like those days when it's in the negatives, the battery life just really doesn't sustain to the performance it needs to, to run," she said. "All the machine learning that's happening on the vehicle, the computers and all that plus being operated as well."
Impact on infrastructure
Cities have also been forced to consider how prepared their infrastructure is for self-driving shuttles. It is a debate that has been playing out for a while as urban areas prepare for the arrival of AVs on a wider basis.
Ann Arbor, MI has been trialing its own autonomous shuttles on the campus of the University of Michigan in a testbed environment dubbed MCity. In September, the university released a case study on how to launch a driverless shuttle in which officials shared the insights they have gathered on city streets.
One issue they identified was the lack of "defined federal, state, or local regulations for signage along a driverless vehicle route," so the University of Michigan created several to help drivers understand they would be interacting with autonomous shuttles and to exercise caution. "User research revealed that 'Driverless Vehicle' would be the simplest phrase for other (human) road users to understand," the case study reads.
Other than some minor tweaks to travel lanes, city leaders said they had few other issues with infrastructure, although they all added signs. Wadsworth said the shuttles in Las Vegas use short-range communications radios that are mounted on poles as well as the vehicles themselves, but other than that there were few disruptions.
As companies like May Mobility look to partner with cities and play a leading role in shuttles' implementation, Malek said that the company will often go through the permitting process and install any necessary infrastructure itself. While the shuttles can operate in mixed traffic, there is technology that can help ensure everyone's safety.
"The infrastructure that we install is usually a type of sensor that if there's a tricky intersection or something like that, we can put the sensors out into the environment to help us see further than we would otherwise be able to do on the vehicle," Malek said. "It helps with that redundancy in our safety systems and then over time as the sensors get better, we'll be able to have less and less of that infrastructure out in the environment."
As for fitting into the overall transportation landscape, Davis said the shuttles in Columbus have served to get some people downtown from a parking structure across the Scioto River, something she called an "unintended use case." The parking on the other side of the river is cheaper than downtown, so it serves a dual purpose in also cutting into downtown congestion.
Wadsworth said one issue the shuttles ran into during their interactions with drivers was that they were careful to obey various traffic laws, which made some human beings a little annoyed at times. "I think maybe the commenting we saw was that because the vehicle obeys speed limits and stops at stop signs, there were some drivers that did get impatient," she said.
What comes next?
Las Vegas, one of the first cities to pioneer autonomous shuttles, seems to be in pole position to have a permanent program in place. The city received a $5.3 million Better Utilizing Investments to Leverage Development (BUILD) grant from the U.S. Department of Transportation (USDOT) to help provide a shuttle between the Las Vegas Medical District and the city's downtown transit center. It is the product of a partnership between the city and the Regional Transportation Commission of Southern Nevada.
Meanwhile, Columbus has plans to take its shuttle pilot to a different part of the city with a view to serve different members of the community. The next phase is expected to start in November in the city's Linden neighborhood and link up a community center and food bank with the Linden Transit Center. Davis said it should help residents of the low-income neighborhood and how autonomous shuttles can be put to different uses.
---
"I think maybe the commenting we saw was that, because the vehicle obeys speed limits and stops at stop signs, there were some drivers that did get impatient."
Joanna Wadsworth
Program Manager, City of Las Vegas
---
"I think residents are really encouraged when they hear that to think about the practical uses of how this technology can help their neighbors better navigate the community," Davis said.
The idea seems to be catching on across the country, too, especially on college campuses. In the last few months, Sacramento State University and the University of South Florida are among those to launch shuttle pilots. At the state level, a Florida bill seeks $2 million in funding for a smart corridor with autonomous shuttles to Altamonte Springs, FL, while competitions like the Michigan Mobility Challenge have provided funding for shuttle programs.
And while it may be early days for Denver, there are hopes that as the surrounding area — known as Peña Station Next — develops around it, it can serve as a link for residents and visitors to transit and to nearby developments.
"Right now, it just has three stops, but over time it's envisioned and will have stops throughout not only Peña Station Next but to our property to the north," Ferd Belz, president of Fulenwider, the developer behind Peña Station Next, told Smart Cities Dive. "So, if you're staying at a hotel or living in a townhouse, you don't have to get in your car to come to either the activities by the rail stop or to get on the rail line and go downtown or go to the airport."
Wadsworth said the positive public reaction bodes well for the future of autonomous shuttles, both in Las Vegas and elsewhere.
"A lot of people after they rode the shuttle had indicated, 'When is this going to become a permanent transportation choice?'" she said. "That was good to hear that they weren't timid or negative about the technology, they were very positive about it."