Wildfires have wreaked havoc this summer along much of the West Coast, and for affected cities like Redding, CA, the recovery and rebuilding process will be long and expensive.
Redding was recently rocked by the Carr Fire, now the eighth-largest in California's history, while the biggest-ever Mendocino Complex Fires have also created problems across more than 363,000 acres of land.
Nearby states, including Montana, Oregon and Washington, have struggled with wildfires throughout this year too, leaving thousands of residents displaced and acres of forest burned. Experts believe there is now no longer a set time for the highest risk of wildfires.
"We used to have a fire season, now we're saying fire season is year-round," Pam Leschak, a national program manager at the USDA Forest Service, told Smart Cities Dive. "Just about any month in the year, you'll find there's wildfires happening somewhere in the U.S. With accumulation of fuels, with climate change, with more people moving into the wildland-urban interface and building in high-risk areas, this is the new normal."
And for cities that have been caught up in wildfires, or are at risk in the future, the time is now to prepare for any future disasters, while recovery presents its own challenges. In addition, while technology can help cities and other jurisdictions track wildfires and communicate with residents, issues that arise should not be underestimated.
The long road to recovery
The wildfires in California, which have covered more than 900,000 acres in total and resulted in the deaths of civilians and firefighters, have been so vast that earlier this month, President Donald Trump declared a major disaster in the state and ordered federal agencies to supplement recovery efforts on the ground.
On Aug. 1, Redding officials announced they would be working closely with their colleagues in Shasta County, CA on recovery, which they described in the announcement as a "long-term process."
That recovery will include making sure there are no more fire threats, checking the status of utilities and removing any toxic materials left behind.
"We can't rush this process. We have to ensure the health and safety of our City and its residents, first and foremost," Redding City Manager Barry Tippin said in a statement. "On top of that, we have sustained millions of dollars of damage that needs to be repaired."
For residents, that recovery begins at home, where many have to deal with damage (or destruction) to their property and make the tough decision to remain in their homes or relocate completely.
---
"With accumulation of fuels, with climate change, with more people moving into the wildland-urban interface and building in high-risk areas, this is the new normal."
Pam Leschak
National program manager, USDA Forest Service
---
Sam Kernaghan, associate director for city and practice management for the Asia Pacific Region at global group 100 Resilient Cities, said residents have faced those decisions in cities like Sydney and Melbourne, Australia, which have been battered by fires in recent years. He said those affected must balance their "attachment to place versus a high fire risk." 
"Do we go back to where we were, do we really show our stoicism and our strength in the face of these kinds of threats and say, 'We're not going to get beaten,'" he told Smart Cities Dive in an interview. "Or do you accept the legacy of being in a place that's not great from a bush fire perspective and move on?"
Both Sydney and Melbourne have wildfire recovery and preparation written into their individual resiliency strategies, with the latter putting fires on a par with other unexpected shocks like floods, heatwaves, disease and cybercrime.
In 2009, the state of Victoria was rocked by the Black Saturday bushfires, the worst in the history of Australia that caused almost 200 deaths and $4 billion Australian dollars ($2.9 billion USD) in damages. Recovery efforts were complicated, the state-appointed royal commission found in a report in the aftermath, as many homeowners were under-insured and so were crippled by the costs of rebuilding and looking to government at various levels for help.
"Local communities have to do their due diligence. They've got to look at their risk and work with folks in the community, both residents and businesses and responders and land managers of all kinds to make their communities safer," Leschak said. "Far better to do that before than spend a lot of time and agony and tears on recovery."
That recovery is not just a physical challenge of residents deciding to rebuild their lives from a material standpoint. It is also a mental challenge, something Kernaghan said is being taken more seriously by cities around the world.
"More and more emergency management departments are realizing that it's not just putting out the fire and going, there's actually a lot more mental health component to the recovery," Kernaghan said.
Population pressures could hamper preparation
Cities' growth, both in terms of area and in terms of population, have meant residential neighborhoods have started to come up against the edges of protected lands like national parks and forests. With this proximity, cities run the risk of being even closer to the spread of wildfires.
That scenario becomes more complicated, given many cities' emphasis on expanding their urban forest and tree canopies, something the Forest Service has said is important to help the environment as urban areas grow. Sydney and Melbourne both have programs to increase their tree canopies.
"If you look at Sydney, it's kind of ringed by national park and forests and has these green fingers reaching into the city, and Melbourne's the same," Kernaghan said. "There's a lot of native vegetation, a lot of forest that's coming into the city, and so where your urban population is either because of lifestyle wanting to be on that fringe or because of population pressure is pushing out into that fringe."
Many cities at risk of wildfires are now looking to planning and zoning regulations to withstand such disasters, including having requirements around clearing vegetation, having setbacks between new homes and trees, among others.
To balance their environmental needs with the safety concerns of their residents, the Los Angeles Fire Department works with its community members to clear brush in high-risk zones, with a view to reducing the risk of wildfires catching and spreading. But as urban populations grow and become denser, the task gets increasingly difficult.
Given these pressures, Kernaghan said the onus is on everyone to prepare themselves, and a way to raise awareness of conditions on the ground is the McArthur Forest Fire Danger Index (FFDI). With a color-coded system that combines dryness, wind speed, temperature and humidity, the index gives city dwellers a tangible way to keep track of the risk of fire and potentially plan accordingly.
"It's not saying, 'The potential for fire is here,' it's about everybody saying, 'Everybody needs to be alert because of the conditions in this particular area, pointing towards a potential risk,'" Kernaghan said.
And in Sydney, the Get Prepared app has been gaining users after being built by the Australian Red Cross. Through the app, city residents can put in emergency or key contacts, make a plan in case of emergency and share it with others.
People help the people: Mutual aid key for cities, agencies
When it comes to cities and counties preparing to deal with wildfires, having mutual aid agreements is crucial, especially between their fire departments. And while California has its Department of Forestry and Fire Protection (Cal Fire), it is still imperative for local agencies to work together on the ground, especially when state resources are stretched.
This has become an even more difficult task for California, which has seen its statewide resources stretched by so many wildfires. Earlier this year, the state legislature invested an extra $50 million in enhanced mutual aid, to ensure "a more proactive and effective mutual aid response system is implemented across our state," state Sen. Mike McGuire said in a statement.
Some cities have tried to step up, given the strain on state resources and as part of the lessons learned from other disasters. In Berkeley, CA, the 1991 Tunnel Fire that killed 25 people and destroyed entire neighborhoods brought more coordinated training with other firefighters from the area.
And in Australia, that tradition of mutual aid is nationwide, although it can certainly be stretched at times too.
"In Sydney, you've got 33 councils," Kernaghan said. "They've all got access to fire vehicles, how can those be spread around the city as they're needed? Similarly, Australia has a very good practice of sharing resources up to Brisbane, down to Melbourne as they're needed, what happens when there's bush fires happening in those places at the same time?"
At the federal level, departments have made agreements to work together to combat wildfires, including earlier this year when the U.S. Departments of Agriculture and Interior signed a joint memo urging collaboration. A major point of emphasis was safety, both of community members and firefighters.
"It is essential that firefighters have the right tools, resources, and flexibility to allow them to do their jobs safely," Agriculture Secretary Sonny Perdue and Interior Secretary Ryan Zinke said in a joint statement at the time.
But sometimes, even mutual aid can only go so far. Northern California was ravaged by wildfires in October 2017, including the city of Sonoma, which posted evacuation notices and warnings for the Nuns Fire, which took 5,000 firefighters to get it under control.
---
"As we take on new technologies, we're actually creating potential risks for ourselves in the way we communicate with people who are at risk but also those who need to do the communication."
Sam Kernaghan
Associate director for city and practice management for the Asia Pacific Region, 100 Resilient Cities
---
Sonoma Valley Fire & Rescue Authority Battalion Chief Bob Norrbom told the Sonoma City Council at a meeting earlier this year that, with so many fires going on simultaneously, it was tricky to get resources to the right place. "We're used to calling in the cavalry and the cavalry shows up. But when there are several fires going on throughout the state, it makes it very difficult and we were kind of on our own," Norrbom said.
At a press conference this month on the Carr Fire, California Gov. Jerry Brown, D, said there are always lessons to be learned and that agencies must continue to work together closely to mitigate damage. "We have to learn as we go, and I don't think it's good to focus on who screwed up," Brown said. "It's rather how we can collaboratively and cooperatively get the job done and help each other."
The role of technology
A spate of new technology has emerged to not only track wildfires, but to predict where they might start and the paths they might take. In partnership with data analytics and mapping firm Esri, Redding and its nearby communities produced a map of damaged structures from the Carr Fire that is updated regularly and shows the fire's devastation in an empirical way.
In addition to keeping track of damaged structures, Esri also collaborated with licensed drone pilots to capture 360-degree photographs of what has been left behind in Redding now that the flames are out.
That drone usage has also expanded to keep track of fires as they advance, with firefighters sending drones into areas affected by the Mendocino Complex Fire to track their colleagues' locations, capture live video and send it to be plotted on real-time maps.
But while drone usage has been controversial for many reasons in cities, a major stumbling-block has been drones owned by private citizens interfering with those used by first responders. That led U.S. Sens. Cory Gardner and Michael Bennet and Rep. Scott Tipton to introduce the Securing Airspace For Emergency Responders (SAFER) Act, which makes unauthorized drone use over a wildfire a felony.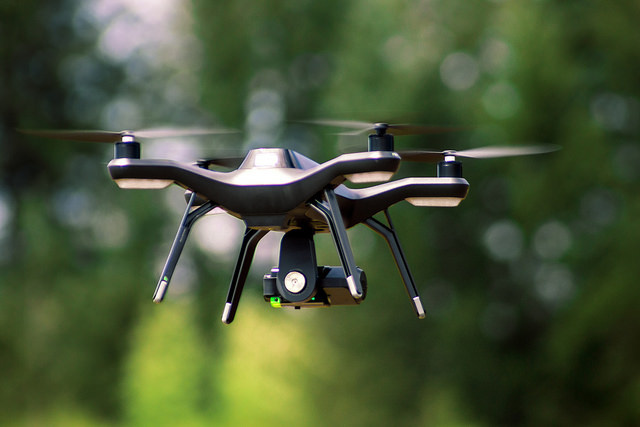 "When an unauthorized drone flies over a wildfire, it poses a huge threat to aircrafts working to suppress the fire and forces them to ground," Tipton said in a statement. "Not only does this prevent the fire from being suppressed as quickly, but the firefighters on the ground are also left without the air support they may need to create an exit route in the event of an emergency."
But new technology could present new challenges. Kernaghan noted during a recent emergency management simulation in Sydney, many city government agencies were so reliant on internet and cellular communications that when the power grid went out, their messages could not reach many residents.
Instead, emergency services like the fire departments and police had alternative systems, and Kernaghan said it is concerning that some of these alternatives may be lost.
"One of the things about the technology is, as we move into broadband and wireless networks, you're actually removing redundancies in your communication systems," he said. "As we take on new technologies, we're actually creating potential risks for ourselves in the way we communicate with people who are at risk but also those who need to do the communication."