UPDATED, May 17, 2018: Columbus, OH on Thursday officially launched the first version of its Smart Columbus Operating System, which will manage 1,100 data feeds and distribute them to government offices and private sector companies, according to the Associated Press. Columbus Mayor Andrew Ginther told AP that the launch marks a "major milestone" for the city.
"Fundamental to 'becoming smart' as a city is discovering how to use data to improve city services and quality of life for residents," he said.
The city will also host a three-day hackathon, beginning Friday, that will provide open data for developers to try to solve transportation problems in the city. Among solving other challenges, city officials hope the hackathon can target problems facing households that don't own a car, with data sets oriented around the accessibility of transit stops. 
Dive Brief:
The Columbus, OH City Council has awarded local firm Pillar Technology Group with a $2.5 million contract to develop its Smart Columbus Operating System (SCOS) to analyze and share transportation data, according to The Columbus Dispatch.
An exciting step in the creation of the Smart Columbus Operating System: City Council has approved a contract with @PillarTech to continue the buildout of the operating system, which will serve as the data "spine" of our smart city initiatives. https://t.co/OiPXOTWFFA

— Smart Columbus (@SmartCbus) April 18, 2018
Columbus Deputy Innovation Officer Brandi Braun told the Dispatch the SCOS will be the "cornerstone of our Smart Cities portfolio of projects." It is expected Pillar will begin development of the system by June.
The announcement comes just two months after the city issued an RFP seeking IT firms to build the data hub. The RFP called for 42 jobs to complete the three-year SCOS build-out.
Dive Insight:
Preliminary development of the SCOS has been ongoing for months, and was even a topic of discussion at Smart Cities Week last October, during which Smart Columbus Director Jordan Davis said the system is "truly the heartbeat of everything that will make us smart in this sector." The goals of the overall Smart Columbus Program are improved safety, enhanced mobility, enhanced access to opportunities, and reduced environmental impact — all of which will be driven by the SCOS.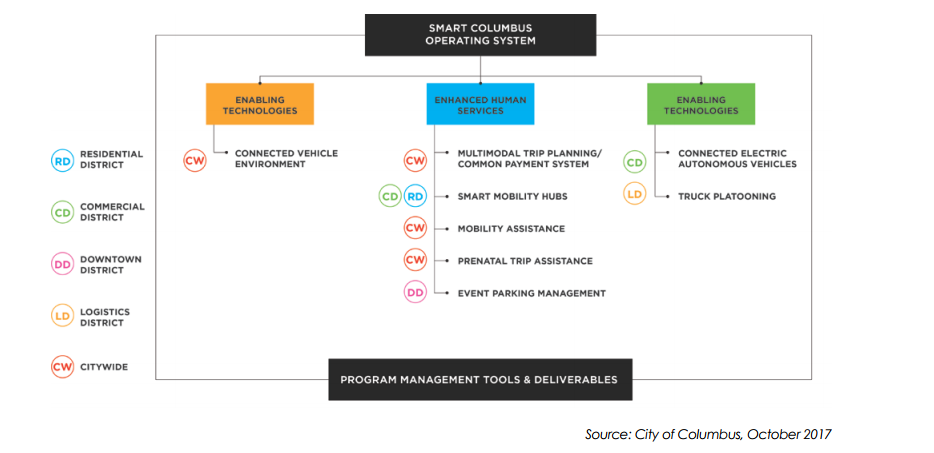 Pillar Technology describes itself as a "singularly effective technology consulting company" that knows how to do three things: create, transform and innovate. This simple focus is an attractive quality to cities hoping to become smarter through a dedicated public-private partnership (P3), and Pillar's locality to Columbus will be an added benefit to the partnership.
Columbus has not sat on its hands since issuing the data hub RFP. Instead, the city has continued to push innovative pilots and projects that will compliment the finalized SCOS. In February, the city bought its first electric vehicle (EV) feet for its departments using grant money from the 2016 Smart Cities Challenge, and in March, the city announced a Smart Columbus Experience Center that will open downtown this summer. "It will serve as a space where we can innovate and learn from each other and provide a platform for planning a future of shared mobility and prosperity," said Columbus Mayor Andrew J. Ginther in a statement.