Alphabet-owned Sidewalk Labs published on Monday its highly anticipated Master Innovation and Development Plan (MIDP) for Toronto's waterfront.
The 1,500-page draft, titled "Toronto Tomorrow: A New Approach for Inclusive Growth," details how the company plans to develop Quayside, a high-tech "neighborhood of the future."
The Sidewalk Toronto project has been teased for more than 18 months, drawing in comments and criticism from more than 21,000 Toronto residents and stakeholders, including the Waterfront Toronto organization. The master plan officially outlines developmental elements that have long been hinted at, such as weather-adapting technology and strategies for transparent data collection.
The master plan also puts a $1.3 billion price tag on the project with the hopes of catalyzing $38 billion in investment by 2040. The investments will enhance five priorities outlined by Sidewalk Labs: job creation and economic development; housing affordability; sustainability and climate-positive development; new mobility and urban innovation.
While there are thousands of details scattered through the lengthy report, Smart Cities Dive identified five key takeaways and observations:
1. Mass timber is at the core of the project
A unique element of the MIDP is Sidewalk Labs' plan to develop the neighborhood of Quayside entirely from mass timber, a material that it says is "every bit as strong and fire-resistant as concrete and steel, but far more environmentally sustainable and easier to manufacture."
In order to make this a sustainable building process, Sidewalk Labs will invest $80 million in a tall timber factory in Ontario. Sidewalk Labs says this mass timber supply chain will create timber forestry jobs, factory jobs, trucking jobs and construction jobs.
The use of mass timber is also said to increase housing affordability; the Toronto Tomorrow plan estimates the development of 40% below-market units.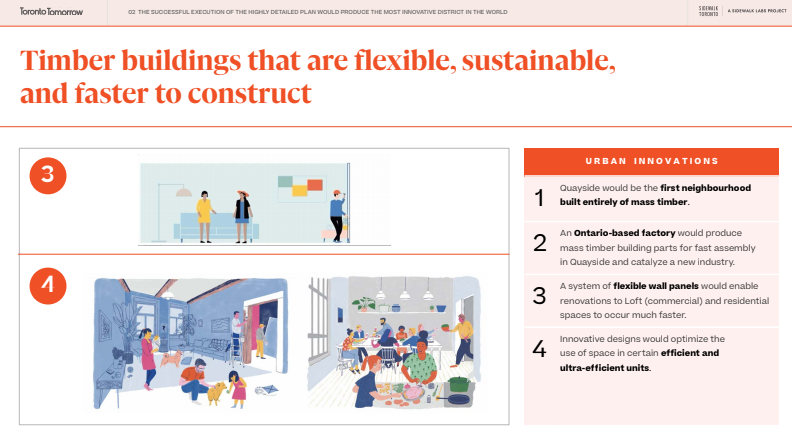 2. Data is woven into all elements of the plan
Toronto Tomorrow highlights Sidewalk Labs' goal to create the "strongest governance regime for urban data anywhere in the world." As a result, nearly every layer of the MIDP has data collection and use woven in. 
The plan makes it clear that it will follow responsible data use policies to comply with Torontonians' mounting concerns about privacy and security. Sidewalk Labs pledged that it will not sell personal information, not use personal information for advertising and not disclose personal information to third parties without explicit consent.
To ensure responsibility around data collection, Sidewalk Labs proposed an independent, government-sanctioned "Urban Data Trust" that will manage urban data — both personal information and information regarding the physical space of the city — and establish a set of Responsible Data Use Guidelines for collection practices.
3. The plan touts an economic boom for Toronto — and all of Canada
Sidewalk Labs claims implementation of the MIDP will create an "economic windfall" for Toronto and Canada as a whole.
In an economic impact analysis, consulting firm urbanMetrics, Inc., measured the one-time and recurring benefits of developments at Quayside — including construction, infrastructure, operating output and tourism — and concluded the project will bring 44,000 jobs to Canada by 2040 and add $14.2 billion annually to the Canadian Gross Domestic Product (GDP).
The firm wrote the development in Toronto is "imperative" to position the city as on the "leading edge of addressing many of the central challenges now facing contemporary cities."
4. Development won't stop at Quayside
Though the development of Quayside has been teased for more than a year, the MIDP notes that neighborhood is just the start of the Toronto waterfront project. Sidewalk Labs also outlines plans to develop the western side of Villiers Island as an extension of Quayside. The two sites will take up just 7% of the eastern waterfront.
Over the next 20 years, Sidewalk Labs hopes to transform a collective 77-hectare area (approximately 190 acres) into the "IDEA District," which will consist of Quayside and the River District (Villiers West, Villiers East, Polson Quay, Keating East and McCleary). 
If the project expands into the full IDEA District, Sidewalk Labs proposes to take a more hands-off role that would focus on supporting Waterfront Toronto in areas of planning, design and implementation; technology; and optional infrastructure financing. 
"These supportive roles reflect Sidewalk Labs' belief that the greatest cities are built from the community up, and that the proposed innovation strategies for achieving public policy goals can only be successful if widely adopted by Toronto's broader development and innovation communities," the plan reads.
5. Opposition is on the horizon
Sidewalk Labs faces an expected wave of vetting from city officials, partners and the public, as it has over the last 18 months. A poll released by the Toronto Region Board of Trade last month found only 54% of Toronto residents support Sidewalk Lab's proposals for its Quayside project.
Waterfront Toronto Chairman Stephen Diamond has already released an open letter that explicitly says his organization was not involved with the creation of the MIDP, and listed a number of concerns regarding the plan, including the proposals for future expansions and the strategies for data collection.
Waterfront Toronto also called on the public to participate in upcoming public consultation processes to collect thoughts on the MIDP, including conditions that should be explored further.
"Whether the Quayside project proceeds or not, the conversation we are having is important for all of Toronto," Diamond wrote.